so, when i start getting a little blue the first things to suffer before i even realize it's happening are my bedroom floor, my calls and my blog. sorry! just looking at the pictures from the amazing time at the mlpa birthday crop are making me a little less slumpy though! i had a lot of fun all weekend, sat with my mum and suzy friday night, nicole, breanne and gigi saturday and my mum and katie on sunday. here's a little peek of what our table looked like saturday, haha!




yeah, sometimes we need to be surrounded to be creative. we all kind of hit a block at the same time though so we headed out for some coldstone and then breanne and i remembered that we had seen a gigantic barbell in a parking lot earlier when we went on a coffee run. so, of course we had to go visit it! this is all too hilarious!!!

we set the cameras on timer and then i would hit the buttons and make a run for it! and, as we all know, i am an only child and never played sports so me running is just hilarious, as i pretty much run like a small child, but not quite as bad as phoebe in that episode of friends!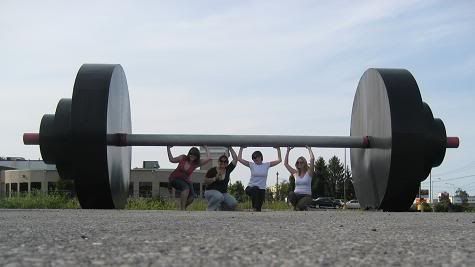 we also got some rad self portraits. the best part of hanging out with other scrappers is that everyone takes pictures and then you have a bunch to choose the best piccies from!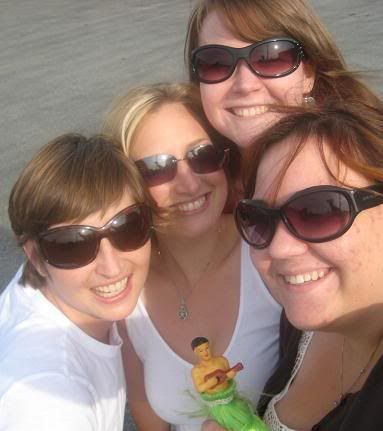 we also were taking totally awesome pictures in the car and breanne snapped this lovely while we were at a stop light;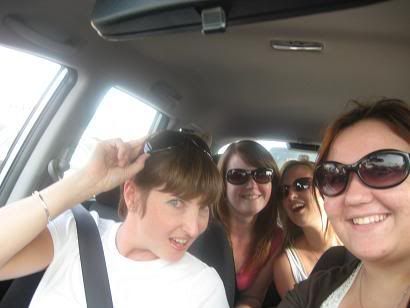 people in other cars around us were looking at us like we were total crazies, but whatevs. it was rad. breanne was like, "we are totally sick." and my response? "if by sick you mean awesome then i totally agree!" breanne is so hilarious she wrote it down and made an awesome layout about it. she has already made some really awesome layouts from these pics. go check them out in her sis gallery
here.

so we came back with my face hurting from laughing so hard, love that by the way, and totally re-energized so we decided to do a scrap in style tv inspired round robin. we each started a layout and then every 15 minutes a timer goes off and you pass it to the person next to you. it was sooooooo fun, and after an hour, with only a minor snafu of gigi thinking the picture of nicole and her brother was a picture of nicole and her husband (haha, breanne and i worked it out) we each had an awesome layout to show for it! mine is already in a frame hanging on my wall!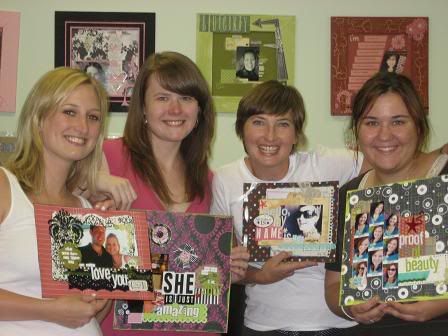 it was sooooooo awesome and totally kick started my creativity that day and carried over in to the next!

well, i'm off to work on some thing, but look for a rak in the near future. i'm thinking a my favorite rock and roll scrapbook items kind of theme. we'll see.

oh, p.s. i am not totally addicted to wii! ugh! and p.p.s. the three new cd's i want desperatly right now are cartel, rilo kiley and atreyu. could i please be a little more multiple personality with my music?