i just sold some stuff in my etsy shop so i decided to turn it right back around and buy some of the little things that have been sitting on my etsy wishlist. so, i got these 6 sets of plastic charms (you'll be seeing these on my lo's, cards and in some rak giveaways) and these three adorable necklaces!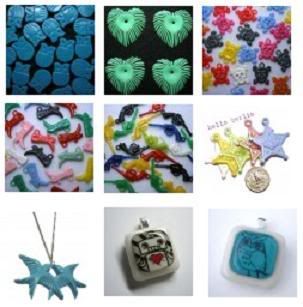 love love love me some etsy!

also, i got my appointment all set up with stacy over at sacred art and i'm going for my tattoo tuesday @ 2. can't wait. i've really been thinking about this tattoo for about a year now, in one form or another, and i'm glad i have finally made the decision! it was a tough one to make since this will be my first tattoo that will pretty much always be visible (it's going on the inner lower arm, down by my wrist. i can't wait to get it though! hopefully there will be someone there to take pictures! have to scrap it!