so i'm about to go catch up on all the sleep i was missing this weeked, but i just wanted to post some piccies of the oh so rad experience this weekend at memory lane pa thanks to this lady;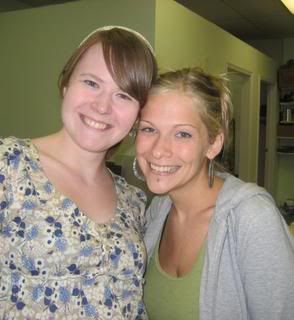 it was so awesome to not only take two of kristina contes/kc/kristie/klala's classes, but we got to crop with her the night before too! it was so cool to meet some really fun new scrapsters and the woman herself! the talent just flows from this girl! i not only love the two mini books she taught, but i def absorbed a lot of new techniques to store away in that scrappy part of my brain for constant use!

anyway, here are some photos of the store, which is awesome!!! ummm can we say hambly and love, elsie right when you walk in the door?!? i darn near keeled over! and some photos of the crop, classes and all the awes scrapsters!


i'll give you ladies a better update tommorow when my eyes are actually all the way open, apparently my body is too old to handle beer pong and flip cup until 4 in the morning and then 3 hours of sleep on the floor before work! lots of fun though!
k sleeps now.