... that's what we call glasses in our house, i'm sure that it had something to do with the fact that my 80's glasses had purple frames and were so huge that you could see my ears through them. they have gotten much better now, thank god! anyway, here's a lo i did of my friend nicole and i lounging in jammies and glasses;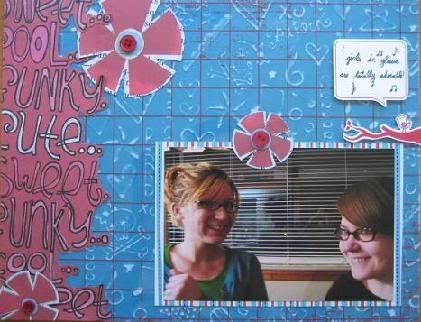 i used the june story of my life kit and scraplifted the idea of sanding the love, elsie textured cardstock from someone on some message board. i forget who, sorry!




the bird and bubble are cut from a tag that i bought from here this shop has some really adorable stuff and she is super quick to mail things! i love this tag set and i also bought the scalloped journaling tags, and next on my list are the bubble bird notepaper, the sarcastic to-do lists and the pirate tags, so cute!

so i'm a tiny bit stressed! working everyday since the 4th of july and up to the day before i leave while trying to get ready for cha and taking care of my mum who just had shoulder surgery friday is making me a little insane! but, i am getting there. i got a bunch of clothes yesterday, and marykate is coming over tommorow night to help me figure out what to keep and what to return. and nicole carro, super rad girl who i met at kristi's class at mlpa is coming to the store to see me tommorow, and shop of course, can't wait! i'm supposed to go see harry potter on tuesday, but somehow i don't see that happening. keep me sane ladies, it's a crazy ride right now!