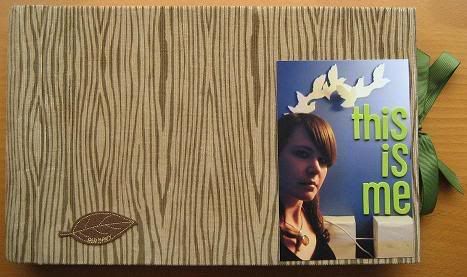 i've been wanting to start this from the day the blog started but y'know how things go! so, i finally "made" my cover, which was pretty much just sticking some thickers on a photo and slapping it on to the front of this awesome corduroy woodgrain album i got from the clearance bin at old navy a few years a go. this rainy grey days seems perfect for sitting here at work, listening to bright eyes and working on all the pages for it. i can't believe there have been 10 prompts already! there are so many challenge blogs out there right now, but i love that this one will really be a challenge for me since i am not the best at getting around to journaling and that's what this one's all about. plus most people's layouts don't have any pictures on them, which will be fun to experiment with.

i finally did it! i bucked up and dyed my hair dark chocolate brown!!! it feels so crazy. i don't want to post any before and after pics until i get it cut on tuesday so y'all can see the crazy big change. eek! i had to do it last night cause it's getting crazy the next couple of days, which i totally love!

tonight kate and i are going out, that's right out, as in around other people where i might actually have a chance of meeting a new guy, crazy! and then sunday is my short day at work, so it can be a catch up day when i get home, making evan a birthday present, circle journals, burning cd's and doing laundry. monday it's off to long island to help kristina with her scrap space and heroes season premiere fun! then tuesday is my day in philly, coffee with tim, lunch with ashley, getting my hair cut, meeting evan and then we're off to the rilo kiley show with ashley, simon, john and jasmine. can not wait to see jenny perform live, love her like crazy, but always seem to miss her shows!

anyway, i'm off for my rainy day arts and crafts.