... the winner is nicole (nikkig)! i will mail out the following box of spring/summer goodies to her sometime after the holiday weekend.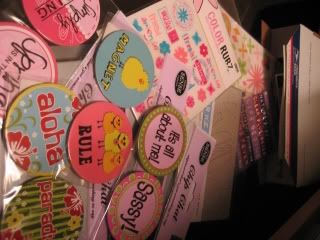 as you can probably tell from my gallery photos, i have indeed decided to do some 8.5 x 11 lo's. here is my plan; my bigtime. "this is my life" memory albums are going to stay 12 x 12 but be transferred in to black linen we r memory keepers binder albums. i am also going to scrap 8.5 x 11 for single photos, about me kind of stuff, challenges and other random memories and those are going to go into either an american crafts chipboard binder album that i will decorate or a ki memories felt binder album, whichever i can get my hands on first.

thank you so much to everyone who responded to the survey. the insight really helped.

and it was a super awes(ome) mail day here in jerz. i got my first ever story of my life kit! the kit is beautiful and edgy and fun all at the same time. the stamps are amazingly fun. i'm not going to admit it, but i may have kissed them when i took them out of the box. i also got a little extra surprise from sara because i was her first ever order! it may be cheesey, but it really means a lot for me to have been able to support her in that way. she seems like a super sweet lady and the business is amazing right from the get-go, so she totally deserves it! so, guess what i'll be working on tommorow at work? haha.

i'm also thinking about going on the hunt for a really cute deck of cards and joining the "weekly deck of me" challenge (it's over in my "challenge me" section.) i'd have to make 13 cards to catch up, but it looks like a lot of fun so i think it will be worth it. anyone out there doing this?

p.s. here is my first ever scrapjacked entry,




i'm not super duper in love with it, but i'm just glad i finally got around to participating in the super awesome challenges that the ladies over there post. and, with story of my life as a sponsor how could i resist?