i totally had to call my mum on that one. here's a lo i started yesterday and finished today, "hoo knew?"




i have been wanting to scrap this picture for a while. i really like it, it reminds me of really fun times at 4th of july picnic/show on a deck but my really tight friendship with this guy ended not so well, see journaling below, and so it was tough to do, but i feel good that i finally did it. the july soml kit is so fun!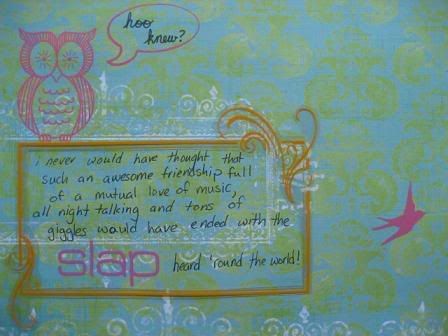 anyway, on to a more awesome page topic, the kristi classes! yay!




i used a bunch of scenic route we have here at the store and a fun little chipboard bird that jessnole (->) sent me a while a go. i covered her and made her a wing and a fun sparkly eye and little eyelashes, and i'm really digging on her little stick legs that could not possibly hold her up irl. hehe.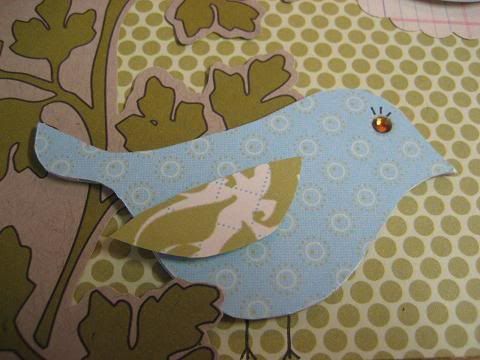 i really loved those classes and the rad ladies i met there, i still smile when i see the pictures.

so, last night my mmy mum and i hauled bumm to the menlo park mall to get me some sjp/bitten lovliness at steve & barry's and it was so shopped that all that was left was xs and xl. i did get one cute shirt in black and also in brown, but it was really frustrating! i need clothes for cha bad!!! we did stop at target on the way home though and i got a dress, 3 skirts and a pair of black capris (because my mum insists i need them, i'm not a black pants kind of girl) and although all the stuff is fun and comfy cute i still feel like i don't have things that add up to outfits. i'm going to have to check h+m and forever 21 (as you can see cheap is key) and then maybe old navy. it's kind of crazy trying to get all this stuff done for cha when i don't have a single day off from work until the day i leave! wish me luck!

ooh! ooh! ooh! i didn't tell y'all about transformers yet!!! soooooooo good! i didn't know that it was 2 1/2 hours long until we were talking about it on the way there, but it sooooo did not seem like it was 2+ hours long! it was really funny and then when it's time to get down to business they get down to business! the affects were jaw dropping and i totally want to go see it again like now! oh, and also, they somehow managed to make the "even stevens" dude crushable!!!what the heck?

alright, i'm off to catch up on my blog reading before grabbing coffee with mk.