just a teeny bit got done. i finished my entry for jessnole's circle journal. her theme was inspiration and here's my entry, front and back;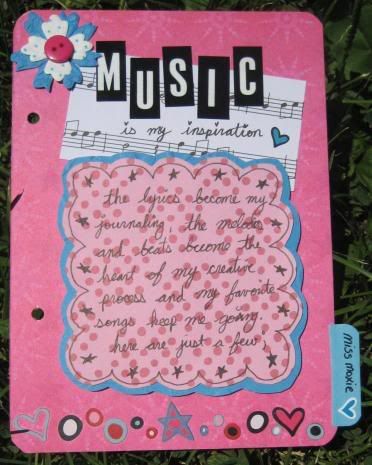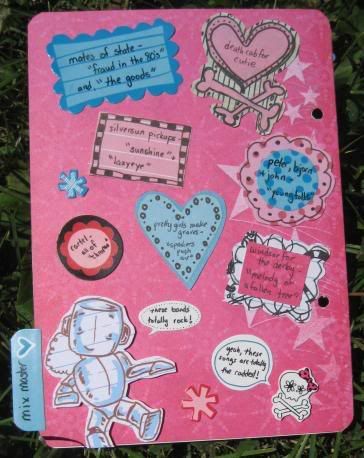 i like it. it's all packaged up and ready to ship off to laurie, hopefully with a better outcome than my first cj. : ( i wonder if that will get returned to me in the mail or something someday. well, i made another one to replace it, complete with making the same sill mistake on the cover, and this one has a pocket in the back for the photos of all the lo's i do for other people's and a page for a wrap up of my experience. so it's new and improved. hopefully it doesn't throw anyone off too much! stupid mail!

and i was sooooooo well behaved this month with my kit purchases! i already had most of the paper in the main kit and add-on over at soml, so tempting to buy it all over again because it's so beautiful, so i just put together my own little add-on by ordering extras of things, the avacado paint, pink & orange petaloo flowers, the amazing hedgie stamp and the doodlebug paper frills in orange (half are yours aimee!) totally can't wait to get these and put them with my paper!

then the next morning i went over to zingboom. she is skipping a kit this month and she had a little shop of extras up so i got the maryink custom cardstocky mystery pack, the embellishment boom box and the ribbon mystery pack. i am hoping with just about every little cell in my body that the adorable brown ribbon with the pink owls is in there, i want it sooooo bad!

and, poppy ink is releasing on the 7th instead of the first so i might have the money to buy the card making add-on if it's reasonably priced, we'll see! it looks like there is a cute "hello my name is" badge stamp in there which would probably be really fun.

anyway, marykate is finally back from north carolina and the shore and i'm headed over there after my little added half day of work today to have a nice little backyard barbeque and visit with my furniece who i'm sure has gotten much bigger in a week and a half! and the weather here is amazing! i'm sure by dinner time it will be shorts and sweatshirt weather, which is my favorite kind!

i accidentily left my camera chord at home so i will try to post some pictures of the improvements to the circle journal tommorow!

oooh, also, there is a rak in the works for when i hit 5,000 views. i'm trying to thing up a fun little contest and rak package. can't wait for the 4 ladies i sent packages to on saturday to get their little lovelies!